Archetypes : Our recent GRAMMY®-nominated album
Our collaborative album Archetypes with Sérgio and Clarice Assad has received nominations for a GRAMMY® Award in 3 categories: Best Contemporary Classical Composition, Best Chamber Music/Small Ensemble Performance, and Best Engineered Album, Classical. The album's producer, Elaine Martone, is also nominated for Producer of the Year, Classical.
These are Third Coast's fourth and fifth GRAMMY® nominations, and the first time we have been nominated as composers. Click here to read more about the album.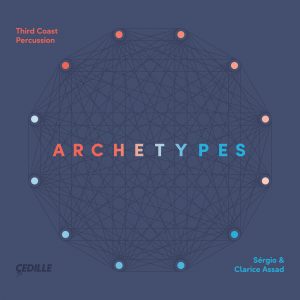 Embark
Embark is Third Coast Percussion's hometown music education initiative, which brings special projects that emphasize creativity, collaboration, and inspiration to students in the city of Chicago. This program is presented in partnership with The People's Music School, which has been providing free music instruction to Chicago youth since 1976. Click here to learn more about Embark.
Currents Creative Partnership
The Currents Creative Partnership is Third Coast Percussion's opportunity to collaborate with innovative music creators who are at the beginning of their careers, have less experience writing music for percussion, or are looking to expand their creative work in new directions. Each year, TCP chooses music creators to collaborate with in the composition of a new work for percussion quartet, workshopping the piece together three times over the course of a concert season and premiering the work in May or June of each year. The application process is free, and the chosen creators receive an honorarium for their work. Click here to learn more about the Currents Creative Partnership.
Missy Mazzoli's new percussion quartet, Millennium Canticles
We are so excited to share this first look at composer Missy Mazzoli's work-in-progress, Millennium Canticles. We are delighted to be commissioning this new piece from her Missy — her first-ever percussion quartet! GRAMMY®-nominated composer Missy Mazzoli was recently deemed "one of the more consistently inventive, surprising composers now working in New York" (The New York Times) and "Brooklyn's post-millennial Mozart" (Time Out New York), and has been praised for her "apocalyptic imagination" (Alex Ross, The New Yorker). From 2019-2021, Mazzoli was the Mead Composer-in-Residence at the Chicago Symphony Orchestra, and her music has been performed by many of the world's leading soloists, chamber ensembles, orchestras, and opera companies.
We hope you're having a blast at our Office Holiday Party! Like what you see today? Become a partner in Third Coast Percussion's artistic and education work by making a donation today. Click here to make your gift. Thank you for your friendship and support!