PROGRAM
Common Patterns in Uncommon Time by David Skidmore (b. 1982)
Prelude – Material Study 1
Mvt. 1 – Entity
Mvt. 2 – Design
Mvt. 3 – Repose
Interlude – Material Study 2
Mvt. 4 – Diversity
Mvt. 5 – Entity
Mvt. 6 – Repose
This concert is support by Sidney K. Robinson. Special thanks to Frank Lloyd Wright Foundation and Taliesin Preservation for partnering with us on the event.
---
PROGRAM NOTES
Common Patterns in Uncommon Time (2011) was commissioned by Sidney K. Robinson in celebration of the 100th anniversary of Taliesin, the studio and residence of American architect Frank Lloyd Wright. Of Common Patterns, the composer David Skidmore writes:
"In writing this piece, I drew inspiration from the following Wright quotation:
'…striving for entity, oneness in diversity, depth in design, repose in the final expression of the whole – all these are there in common pattern between architect and musician.'
The piece is comprised of six movements and an interlude performed without pauses between the movements. Each movement draws its title from one of the key words from Wright's quote: entity, diversity, design, and repose.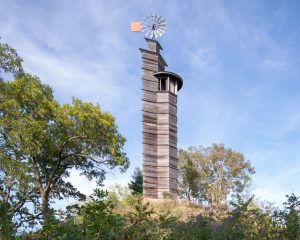 When I was asked to write this piece, I quickly realized that I was not interested in writing music 'about' a piece of architecture. Even if the notion had interested me, I have no idea how one could accomplish such a thing. Instead, this is a piece inspired by architecture, and, more specifically, the work of one of the great creative minds of the last century, Frank Lloyd Wright. I am an amateur aficionado of architecture, not an expert, so I approached the project as such. When I look at a Frank Lloyd Wright building, the characteristic which most fascinates me is the manner in which simple geometric shapes – squares, rectangles, circles, triangles – are layered in such intricate and unpredictable ways to create the deep complexity and beauty of the whole work.
These simple shapes in complex layers, along with the quotation above, inspired both the title of the piece and the vast majority of the musical material. I have taken some basic building blocks of music –rhythmic groupings of 3, 4, or 6 notes; harmonies with 3, 4, or 6 pitches – and layered these elements in many, many different ways, each layer leading to a new musical idea, a new sound, a new inspiration. Taliesin is unique among Frank Lloyd Wright's buildings in that he worked on it continuously from 1911 until his death in 1959. The house is therefore not a single, self-contained architectural idea but instead a fluid structure nearly 50 years in the making. Yet somehow Wright managed to create continuity across his decades of work on the building.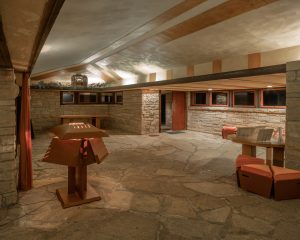 As my good friend, architectural guru, and progenitor of this piece, Sidney K. Robinson once said "Taliesin was always changing, but it was always Taliesin." I have thus endeavored to capture some aspect of this combination of evolution and continuity. While the piece is a palindrome harmonically, with the end of the piece circling back to exactly where it began, the rigid and repetitious rhythmic nature of the beginning slowly loosens throughout the course of the piece and eventually completely dissolves as the piece draws to a close.
The materials of the percussion instruments used (glass, wood and metal) are woven throughout the work in much the same way Wright integrated materials to unify his own designs. This represents a striking similarity between percussion and architecture: more so than in any other music, percussion music is defined by the materials used in performance. A piece may call for marimbas and vibraphones, or it may call for radios, electric buzzer and tom toms; whatever palette the composer chooses, his or her work is defined and structurally unified by these materials as an architect's work is defined and unified by his or her use of limestone, or plaster, or wood."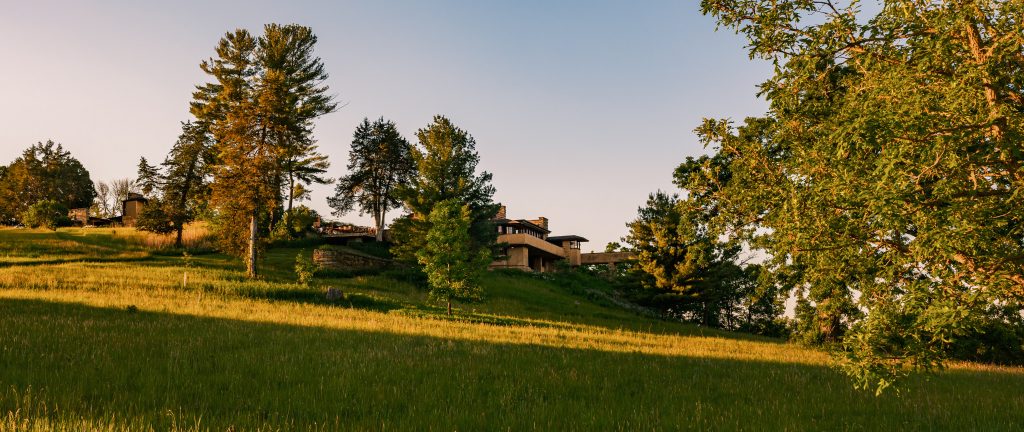 Hear Common Patterns in Uncommon Time on Third Coast Percussion's album Unknown Symmetry: click here to listen on Spotify, and click here to purchase the album.
---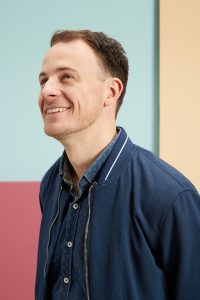 David Skidmore is an Ensemble Member and Executive Director of Third Coast Percussion. As a chamber musician, David has performed at Carnegie Hall, the Lincoln Center Festival, Kimmel Center, EMPAC, June in Buffalo, Klangspuren Schwaz, the Ojai Music Festival, the Bang On a Can Marathon and three Percussive Arts Society International Conventions. David was a member of the Pittsburgh New Music Ensemble from 2007-2011 and Ensemble ACJW from 2008-2010.
David has performed and collaborated with many of the world's finest musicians including conductors Pierre Boulez, Lorin Maazel, David Robertson, and Michael Tilson Thomas, composers Steve Reich, Steve Mackey, Matthias Pintscher, and Peter Eötvos, and chamber ensembles Eighth Blackbird and Ensemble Signal. David has performed as a soloist in Europe, Asia, and the United States. David has also performed as a member of the Lucerne Festival Academy, the Civic Orchestra of Chicago, the Pacific Music Festival, and the National Repertory Orchestra.
David is also a composer, and his works are performed regularly in concert halls and universities across the country. David taught for four years on the percussion faculty at the Peabody Conservatory. He holds a Bachelor of Music degree from Northwestern University and a Master of Music degree from the Yale School of Music. His teachers were Michael Hernandez, Shawn Schietroma, Michael Burritt, James Ross, and Robert Van Sice.
---
Common Patterns in Uncommon Time was commissioned by Sidney K. Robinson for the Taliesin Centennial Celebration.
Third Coast Percussion's programs are supported by The MacArthur Funds for Arts and Culture at Prince Charitable Trust, The Illinois Arts Council Agency, the City of Chicago Department of Cultural Affairs and Special Events, the Aaron Copland Fund for Music, the Amphion Foundation, the Gaylord and Dorothy Donnelley Foundation, and the Alice M. Ditson Fund at Columbia University.
.