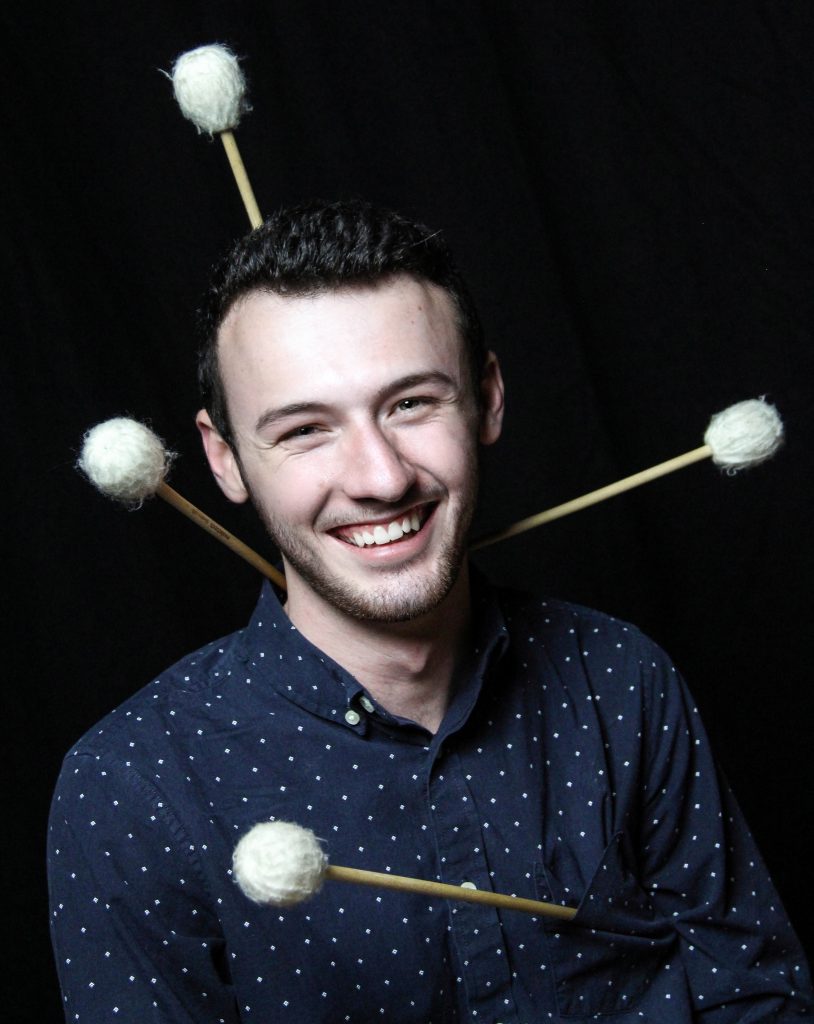 Where are you from?
Spring Hill, FL
What is one thing about yourself that you want everyone to know?
I guess the one thing people should know is I own a penguin sweatshirt.
A link to something about you (website, video, post, etc.)
Here's a link to one of my percussion quartet's videos! Call Street Percussion – Symbiotique by Tyler Tolles – YouTube
What are you up to these days?
I'll be going into my second year of my masters at Eastman.
When did you intern with TCP?
I interned in the month of July in 2022 AD.
How did you connect with TCP?
Through the Eastman Arts Leadership Program which helped put me in touch with TCP!
Did you gain anything from the internship that you'd like to share?
I think being able to see how they operate on a day-to-day schedule was very enlightening and each member was nice enough to have a chat with me over a meal and gave really good information that was invaluable.
What else did you do while you were interning?
I went to the zoo, I went to a Cubs game, and saw a corgi a day for 3 days in a row just by chance.
Did you leave a legacy or mark on the organization that you're particularly proud of?
Not yet but there's still time. I have 48 hrs.
Favorite memory?
I think helping set up the new Mark Applebaum piece with Colin and Sean and then seeing the ensemble read through it. We set it up for like an hour and a half and Sean was just calling out instruments that he needed which were like tongs in a chips bag, or a ping pong paddle, or a deck of cards, and it was funny just scrambling for all these instruments and then when the ensemble played through it, the piece was so intriguing and fun. It made the whole set up worth it.
A GIF or YouTube link that sums up your experience with TCP?
If you were a cartoon character, who would you be?
I think I would want to be Perry the Platypus, but I don't think I'm at his level yet. It's definitely something to work towards. At this point in my life, I'm probably Flint Lockwood from Cloudy with a Chance of Meatballs.
A funny or embarrassing story from the internship?
The first week I was practicing in the studio and Peter came to grab his marimba, but he had sunglasses and a hat on, and I had no idea who he was. So, he just made some small talk and then grabbed his stuff then left and the next day Colin asked who took a marimba and I just said some guy and was sure it wasn't Peter but then I saw him later that day and it definitely was Peter. Sorry Peter!
Our interns can experience every part of TCP's organization, from visiting recording sessions to writing grants and everything in between. We accept interns almost year-round, and are open to discussing remote internships. If you're interesting in learning more about an internship with Third Coast, please contact Sean Connors at [email protected] or Rebecca McDaniel at [email protected].