PROGRAM
Aguas da Amazonia by Philip Glass (b. 1937) / arr. Third Coast Percussion*
"Tiquiê River"
"Madeira River"
"Xingu River"
"Paru River"
"Amazon River"
"Purus River"
"Tapajós River"
"Negro River"
"Metamorphosis No. 1"
Perpetulum by Philip Glass

*U.S. and Chicago premiere
The Field Museum houses an irreplaceable collection of scientific specimens and cultural materials, which support the research of more than 130 scientists. From groundbreaking discoveries to community engagement and public exhibitions to educational programs, the Field connects all of us to the natural world and the human story. For more, visit www.fieldmuseum.org/
Third Coast Percussion's 2022/2023 Chicago Concert Season is generously supported by the Paul M. Angell Family Foundation, the Robert & Isabelle Bass Foundation, and the Elizabeth F. Cheney Foundation. Third Coast Percussion acknowledges support from the Illinois Arts Council Agency.
---
ABOUT THE COMPOSER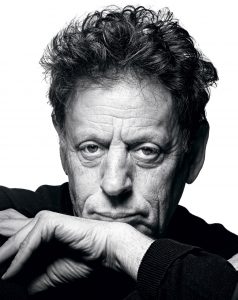 Through his operas, his symphonies, his compositions for his own ensemble, and his wide-ranging collaborations with artists ranging from Twyla Tharp to Allen Ginsberg, Woody Allen to David Bowie, Philip Glass has had an extraordinary and unprecedented impact upon the musical and intellectual life of his times.
The operas – Einstein on the Beach, Satyagraha, Akhnaten, and The Voyage, among many others – play throughout the world's leading houses, and rarely to an empty seat. Glass has written music for experimental theater and for Academy Award-winning motion pictures such as The Hours and Martin Scorsese's Kundun, while Koyaanisqatsi, his initial filmic landscape with Godfrey Reggio and the Philip Glass Ensemble, may be the most radical and influential mating of sound and vision since Fantasia. His associations, personal and professional, with leading rock, pop, and world music artists date back to the 1960s, including the beginning of his collaborative relationship with artist Robert Wilson. Indeed, Glass is the first composer to win a wide, multi-generational audience in the opera house, the concert hall, the dance world, in film, and in popular music – simultaneously.
He was born in 1937 and grew up in Baltimore. He studied at the University of Chicago, the Juilliard School and in Aspen with Darius Milhaud. Finding himself dissatisfied with much of what then passed for modern music, he moved to Europe, where he studied with the legendary pedagogue Nadia Boulanger (who also taught Aaron Copland, Virgil Thomson, and Quincy Jones) and worked closely with the sitar virtuoso and composer Ravi Shankar. He returned to New York in 1967 and formed the Philip Glass Ensemble – seven musicians playing keyboards and a variety of woodwinds, amplified and fed through a mixer.
The new musical style that Glass was evolving was eventually dubbed "minimalism." Glass himself never liked the term and preferred to speak of himself as a composer of "music with repetitive structures." Much of his early work was based on the extended reiteration of brief, elegant melodic fragments that wove in and out of an aural tapestry. Or, to put it another way, it immersed a listener in a sort of sonic weather that twists, turns, surrounds, develops.
There has been nothing "minimalist" about his output. In the past 25 years, Glass has composed more than twenty-five operas, large and small; twelve symphonies; thirteen concertos; soundtracks to films ranging from new scores for the stylized classics of Jean Cocteau to Errol Morris's documentary about former defense secretary Robert McNamara; nine string quartets; and a growing body of work for solo piano and organ. He has collaborated with Paul Simon, Linda Ronstadt, Yo-Yo Ma, and Doris Lessing, among many others. He presents lectures, workshops, and solo keyboard performances around the world, and continues to appear regularly with the Philip Glass Ensemble.
PROGRAM NOTES
The repetitive structures and meditative harmonies of Glass's music have allowed it to exist in many versions for different musical instruments. Selections from his piano etudes and the solo piano piece Metamorphosiswere arranged in the late 1990's for a project with Brazilian musical group Uakti. This version, for Uakti's unique gamut of custom-made instruments, was part of a project called Aguas da Amazonia, in which all of the movements (except for Metamorphosis No. 1) were renamed after the Amazon River and its tributaries.
Long-time fans of Glass's work, and hoping to someday commission the iconic composer for his first percussion ensemble piece, the members of Third Coast Percussion arranged a handful of these pieces for their multi-media project Paddle to the Sea in 2016. Drawing on both the Uakti arrangement and the original piano music, TCP reimagined these works using mallet percussion instruments and other unique instrumental colors such as melodica, desk bells, and almglocken (tuned Swiss cowbells). In 2020, TCP made their own arrangements of the rest of the Aguas da Amazonia, including Metamorphosis, to round out the collection, premiering the full cycle at the Philharmonie de Paris in 2021.
Glass celebrated his 85th birthday in 2022 with a series of online concerts "Philip Glass: Three Cities," with prominent artists performing Glass's work in the three cities that formed his musical identity: Chicago, New York, and Baltimore. The Chicago portion of the series featured TCP performing movements from Aguas da Amazonia in Mandel Hall at the University of Chicago, where Glass attended many concerts as a student.
Third Coast Percussion's recording of Metamorphosis No. 1 appears on their album "Perspectives," released in May 2022 on Cedille Records, alongside music by Danny Elfman, Jlin, and Flutronix.
In the midst of the arranging of Aguas da Amazonia, Third Coast Percussion also realized their goal of commissioning Glass for his first percussion ensemble piece. Although percussion instruments have played an important role in much of Philip Glass's music, and a number of his works have been arranged for percussion by other musicians, Perpetulum was the first work Glass composed specifically for an ensemble of only percussion instruments. Glass, who was 81 years old when he composed this work, harkened back to childhood memories of his first experience with percussion. Though Glass's primary musical instrument was the flute, he had the opportunity to participate in a percussion class while a student at the Preparatory Division of the Peabody Conservatory in his hometown of Baltimore. Perpetulum blends a bright-eyed exploration of the sounds of percussion with Glass's signature musical voice.
The work is in three sections, with a cadenza between the second and third section. Glass proposes some general concepts and instruments for the cadenza, but leaves it to the performers to compose this segment of the music themselves.
Third Coast Percussion premiered Perpetulum as part of a double bill that featured Glass performing his piano works, as part of the Chicago Humanities Festival in 2018, and released the debut recording of Perpetulum on Orange Mountain Music in 2019, on an album by the same name. This album also included works by members of the ensemble and new music by Gavin Bryars, and was nominated for a GRAMMY award in the "Best Chamber Music/Small Ensemble Performance."
Perpetulum by Philip Glass was commissioned for Third Coast Percussion with lead support from the Maxine and Stuart Frankel Foundation. The work was co-commissioned by Elizabeth and Justus Schlichting for Segerstrom Center for the Arts, Bravo! Vail Music Festival, San Francisco Performances, Town Hall Seattle, Performance Santa Fe, the University of Notre Dame's DeBartolo Performing Arts Center, and the Third Coast Percussion New Works Fund, with additional support from Friedrich Burian, Bruce Oltman, MiTO Settembre Musica, The Saint Paul Chamber Orchestra's Liquid Music Series, and the Percussive Arts Society.
ABOUT THE ENSEMBLE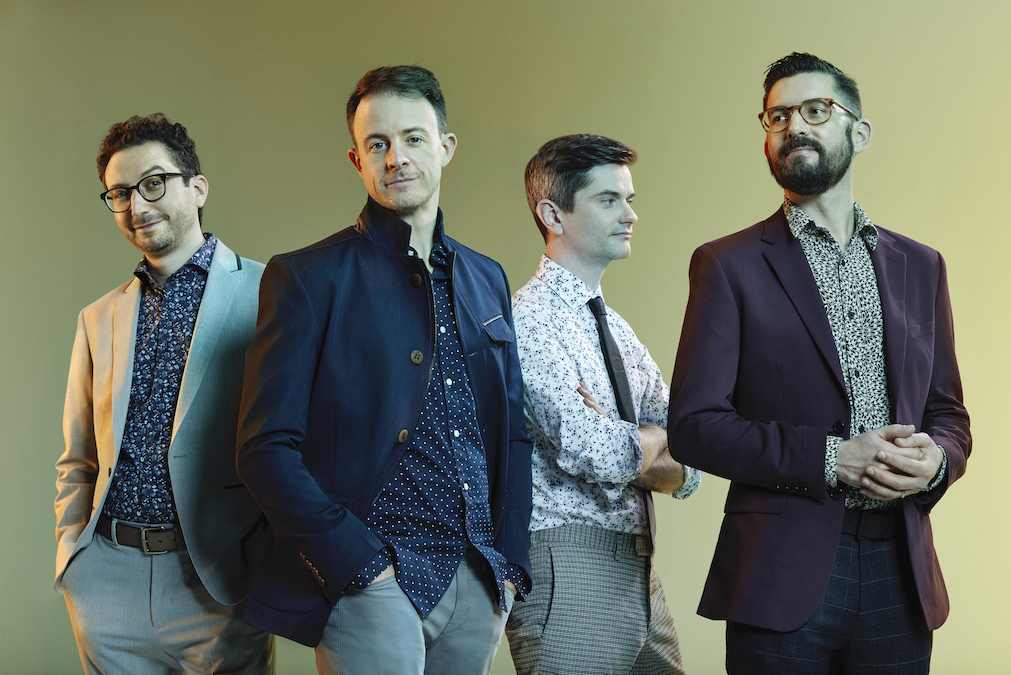 Third Coast Percussion is a GRAMMY® Award-winning Chicago-based percussion quartet and GRAMMY®-nominated composer collective. For over fifteen years, the ensemble has created exciting and unexpected performances that constantly redefine the classical music experience. The ensemble has been praised for "commandingly elegant" (New York Times) performances, the "rare power" (Washington Post) of their recordings, and "an inspirational sense of fun and curiosity" (Minnesota Star-Tribune). Third Coast Percussion maintains a busy tour schedule, with past performances in 38 of the 50 states and Washington, DC, plus international tour dates across 4 continents.
A direct connection with the audience is at the core of all of Third Coast Percussion's work, whether the musicians are speaking from the stage about a new piece of music, inviting the audience to play along in a concert or educational performance, or inviting their fans around the world to create new music using one of their free mobile apps. The four members of Third Coast are also accomplished teachers, and make active participation by all students the cornerstone of all their educational offerings.
The quartet's curiosity and eclectic taste have led to a series of unlikely collaborations that have produced exciting new art. The ensemble has worked with engineers at the University of Notre Dame, architects at the Frank Lloyd Wright Foundation, dancers at Hubbard Street Dance Chicago, and musicians from traditions ranging from the mbira music of Zimbabwe's Shona people, to indie rockers and footwork producers, to some of the world's leading concert musicians. Third Coast Percussion served as ensemble-in-residence at the University of Notre Dame's DeBartolo Performing Arts Center from 2013—2018, and currently serves as ensemble-in-residence at Denison University.
A commission for a new work from composer Augusta Read Thomas in 2012 led to the realization that commissioning new musical works can be—and should be—as collaborative as any other artistic partnership. Through extensive workshopping and close contact with composers, Third Coast Percussion has commissioned and premiered new works by Philip Glass, Missy Mazzoli, Gemma Peacocke, Flutronix, Jlin, Tyondai Braxton, Augusta Read Thomas, Devonté Hynes, Georg Friedrich Haas, Donnacha Dennehy, Glenn Kotche, Christopher Cerrone, David T. Little, Danny Elfman, and today's leading up-and-coming composers through their Currents Creative Partnership program. TCP's commissioned works have become part of the ensemble's core repertoire and seen hundreds of performances across four continents.
Third Coast Percussion's recordings include fourteen feature albums, and appearances on fourteen additional releases. The quartet has put its stamp on iconic percussion works by John Cage and Steve Reich, and Third Coast has also created first recordings of commissioned works by Philip Glass, Danny Elfman, Augusta Read Thomas, Devonté Hynes, Gavin Bryars, Donnacha Dennehy, David T. Little, Ted Hearne, and more, in addition to recordings of the ensemble's own compositions. In 2017 the ensemble won the GRAMMY® Award for Best Chamber Music/Small Ensemble Performance for their recording of Steve Reich's works for percussion. Third Coast has since received 3 additional GRAMMY® nominations as performers, and in 2021 they received their first GRAMMY® nomination as composers.
Third Coast Percussion has always maintained strong ties to the vibrant artistic community in their hometown of Chicago. They have collaborated with Chicago institutions such as Hubbard Street Dance Chicago, the Chicago Children's Choir, the Civic Orchestra of Chicago, Chicago Humanities Festival, and the Adler Planetarium. TCP performed at the grand opening of Maggie Daley Children's Park, conducted residencies at the University of Chicago and the Civic Orchestra of Chicago, created multi-year collaborative projects with Chicago-based composers Augusta Read Thomas, Glenn Kotche, and chamber ensemble Eighth Blackbird, and taught tens of thousands of students through partnerships with The People's Music School, the Chicago Park District, Rush Hour Concerts, Urban Gateways, and others.
The four members of Third Coast Percussion (Sean Connors, Robert Dillon, Peter Martin, and David Skidmore) met while studying percussion music at Northwestern University with Michael Burritt and James Ross. Members of Third Coast also hold degrees from the Eastman School of Music, Rutgers University, the New England Conservatory, and the Yale School of Music. Stay up-to-date and go behind-the-scenes by following Third Coast on Twitter (@ThirdCoastPerc), Facebook (@Third Coast Percussion), Instagram (@ThirdCoastPercussion), and YouTube (@thirdcoastpercussion).
*Third Coast Percussion is a 501(c)3 not-for-profit organization.
Third Coast Percussion
Ensemble
Sean Connors, Ensemble Member and Technical Director
Robert Dillon, Ensemble Member and Development Director
Peter Martin, Ensemble Member and Finance Director
David Skidmore, Ensemble Member and Executive Director
Staff
Reba Cafarelli, Managing Director
Colin Campbell, Production Manager
Rebecca McDaniel, Marketing and Development Manager
Board of Directors
Sara Coffou, President
Beth I. Davis, Vice-President
Mary K. Woolever, Secretary
Daniel Knaus, Treasurer
Jim Barasa
Teddy Boys
Friedrich Burian
Julio Desir, Jr.
Robert Dillon
André Dowell
Jamie Jung
Leslie Larson Maheras
Sidney Robinson
Louise K. Smith
Catharine Fox Walby
Ethelbert Williams